TWAIN, Imaging and Barcode Product Price List and Order Form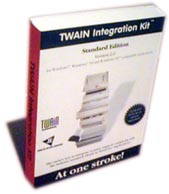 | | | | |
| --- | --- | --- | --- |
| Product | Price in Euro (net) | Click below for secure online order | Email for offline purchase order |
SnapTwain
Windows 32 / 64 bit TWAIN driver for ScanSnap iX100, iX500, S1300i, iX1400, iX1500 and iX1600 Single Desk License
99.- EUR

E-mail us
XPCTWAIN Elite
PDF+TIFF+JPEG Multipage/Multifile TWAIN Driver
Single Desk License
299.- EUR
E-mail us
XPCTWAIN
TIFF+JPEG Multipage/Multifile TWAIN Driver
Single Desk License
199.- EUR
E-mail us
TWAINCommander 3
Single Desk License
199.- EUR
E-mail us
TWAINCommander 3
Developer/ Corporate License
499.- EUR
E-mail us
TWAINCommander 3 Elite
Corporate/Developer License
1498.- EUR
E-mail us
WIACommander 2.0
Developer/ Corporate License
699.- EUR
E-mail us
| | | | |
| --- | --- | --- | --- |
| Update / Upgrade | Price in Euro | Click below for secure online order | Email for offline order |
Upgrade to TWAINCommander 3 Single Desk
License from TWAINCommander 2.0 Single Desk License
99.- EUR
E-mail us
All products are distributed by email or download link. No physical delivery of media is included.
We do accept VISA, MasterCard, JCB and American Express credit cards. Other payment options only offered upon request.




Credit cards are accepted by secure online order from our payment partner.
For offline orders, please send your PO to sales@jse.de. Make sure that you fill in all important as credit card security number CVC and if you are from a country inside the EU make sure to provide your EU VAT Id. Do not send credit card details by email.
US customers, or others who like to pay in $ (USD) rather than in EURO, can purchase TWAINCommander, BARISEI, XPCTWAIN and most of our retail products via secure online order from our partner share-it DigitalRiver/MyCommerce. In this case the product will be invoiced from MyCommerce. MwSt. will be added for orders from Garmany. VAT or local taxes may be added depending on your country and state. To order please click on the RegNow logo in the row of the selected product. In this case your order will be processed by MyCommerce. Of course the product support will be provided by JSE.
This offer is only to commercial customers. The prices are net prices without the current VAT/MwSt which will be added in Germany and some other countries depending on the local fiscal law. This page is not an offer.